With over billions of monthly active users, Instagram is one of the social media networks with the highest levels of communication in 2023. But it's been challenging for marketers to devise a flawless plan to guarantee that their content is viewed and garners a following because of the constantly evolving Instagram algorithm. If you're wondering how to grow Instagram followers organically, you are in the right place.
We have compiled a list of strategies you can apply to grow your Instagram followers organically.
Here's how to grow Instagram followers organically
Use hashtags.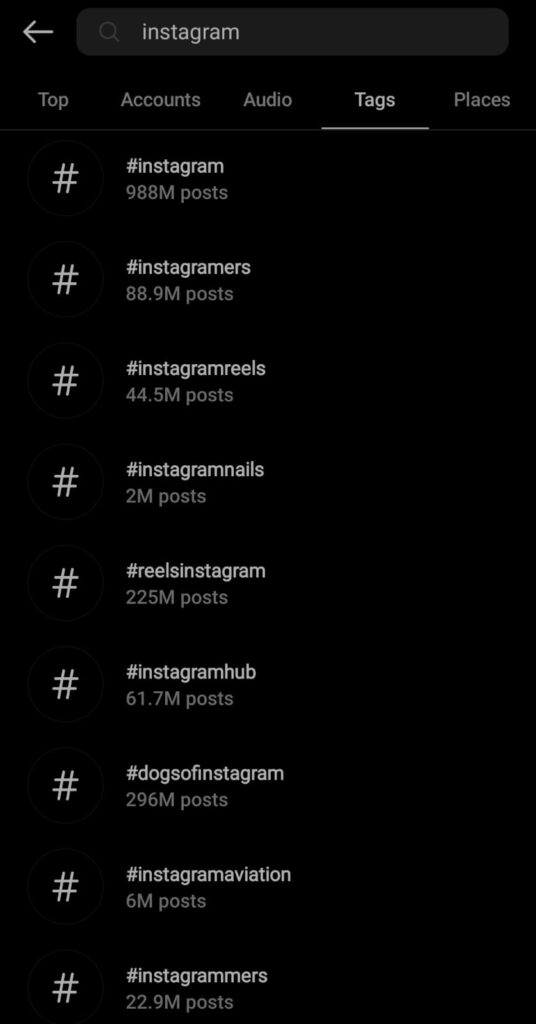 Using hashtags can help you in finding pertinent information. Add them to the captions to increase the number of people who notice your Instagram posts and expand your following.
Using Instagram, you may check the number of posts that contain a particular hashtag to get an idea of how popular it is while coming up with new ones. Consider using hashtags with fewer than 1 million postings to avoid getting lost in the crowd.
If you own a local business, consider using hashtags important to your area to locate customers.
Consider Reels
As approx. 2 billion individuals create reels on instagram, it will be extremely important in 2023 for organic Instagram growth. If you still need to start uploading Instagram Reels at this point, you might be missing an ample opportunity to grow your Instagram following. The best way to reach new audiences is still through Instagram's Reels feature, which allows users to create short, looping videos.
Reels feed viewers, in contrast to the rest of Instagram users, are shown content from people that is of high interest, which encourages more interaction. This suggests that the Reels you create can reach far beyond your list of followers, increasing your exposure and fan base.
Collaborate more
Partnering with other businesses and people with similar beliefs might result in a significant win-win situation. You will be able to get benefit from the advantages of brand association and have access to a larger pool of potential followers.
The most thrilling aspect? Joint ventures don't have to be financially burdensome. Simple and beneficial to both parties, agreements are some of the most effective ones.
Be Consistent
Your audience can learn to anticipate new content from you and develop a routine of connecting with you on Instagram if you are consistent and update frequently. The Instagram algorithm will reward you by showing your content at the top of the followers feeds and in search results as more people interact with you.
If you stick to a regular routine, you may maximize engagement without encountering communication breaks. Once a week is sufficient to get going.
Hold contest
If you want to quickly grow the amount of Instagram followers you have, doing a giveaway could be one of the best tactics to consider. If you have the right strategy, you may get thousands of new potential followers while enhancing the sense of community around your company.
Be sure to include precise entry requirements that support your growth goals, such as following your account, tagging a friend in the comments, and posting to Instagram Stories to be eligible for the prize. Instagram giveaways can be especially helpful when they are organized in conjunction with a brand or creative that targets the same audience as your own.
Post on strategic time
Every little thing counts when you want to increase your Instagram following organically. A specific time of day must be when most of your followers are online. You can utilize several tools, like Instagram statistics, to determine the best time of day when your followers are active. You must strategically post at that time and target it. By doing this, your post will appear as soon as most followers open Instagram daily.
Use Instagram stories
Numerous companies disregard Instagram Stories regarding organic development on the platform. However, Instagram Stories can be a significant part of your strategy for increasing conversions. You can keep your Instagram highlights on your profile for a more extended time!
You can use stories to show what happens behind the scenes as you develop your brand, product, or launch.
To help you optimize your content, interact with your audience, and forge stronger bonds with your clients, Instagram Stories also includes tools like polls, quizzes, and links. You can add shoppable tags to your posts or run limited-time specials and discounts to convert your followers into customers.
Ask users to tag friends.
Establish trusting ties with your followers to establish rapport with them. You can gain organic Instagram followers by following the individuals who already follow you. Encourage them to assist you in expanding your account by sending them personalized messages. For this, you can also make postings requesting that they tag their friends. Their friends will see your account this way and eventually follow you.
Optimize it for SEO
The most influential Instagram tip for growing your following is to make sure your posts are search engine optimized. Utilizing Instagram SEO has made it easier for new users to find your account. According to a recent update that Instagram gave out, users in six countries who speak English can now use keywords to search Instagram.
The "kind of information," "captions," "when it was published," and other details are among these components. It also uses machine learning to "find the stuff that is relevant to you that is of the highest possible quality." There will only be grid postings displayed for the time being.
Create shareable content
Making content worthy of sharing is a fantastic place to start when it comes to organically reaching new audiences. These tried-and-true techniques, including memes based on current events, instructive articles in a carousel format, and motivational quotes, can reach thousands of people with only one viral post.
Memes are particularly good at becoming viral when they capitalize on something popular in mainstream culture.
Let a reputable Company do the job for you
Outsourcing your social media management can save you time and ensure a consistent and professional online presence. By letting an experienced company handle your accounts, you can focus more on growing your business while we handle the creation and scheduling of posts, interaction with followers, and analysis of your social media performance. Take advantage of the opportunity to take your online presence to the next level. Make the smart choice and let The Outsource company handle your social media today!
Conclusion
Apply these strategies to develop your content plan and grow your following. Keep in mind that attracting followers is only one aspect of the problem. Additionally, you need to consistently produce interesting content if you want to maintain your audience.